Active Schools Flag
The Active School Flag initiative is a Department of Education and Skills initiative which aims to get more
schools more active more often. Presentation Senior has recently begun the process towards achieving
an Active School Flag. The initiative is focused on providing inclusive physical activity opportunities for
all members of our school community with an emphasis on fun. Our first Active Schools Committee has
been appointed and they are eager to get started. Here they are getting into the Halloween spirit!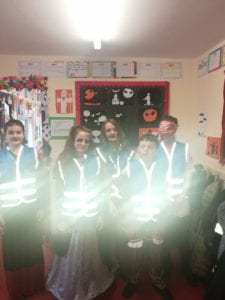 Presentation Senior School has always been a very active school. Throughout the year all classes get the
opportunity to take part in an array of sports and activities including football, hurling, basketball, dance,
drama, soccer, rugby swimming, tennis, cricket and cycling. In pursuit of the Active Schools Flag, there
will be many more fun activities organized for the rest of the year. Watch this space..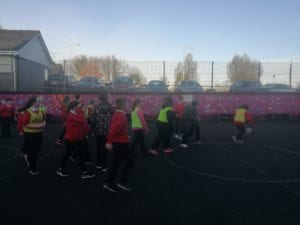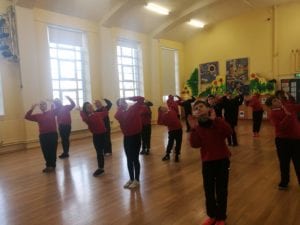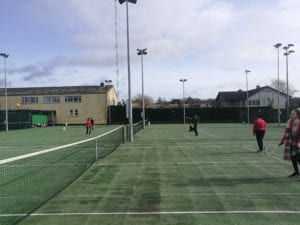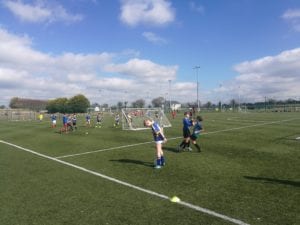 Mullingar Shamrocks Visit
On Thursday 8th November, following their Westmeath Senior Football Championship win, members of Shamrocks GFC brought the Flanagan Cup to the school. We were delighted to welcome the newly crowned County Champions after their historic win and members of the Active School Flag committee did a fantastic job in interviewing some of the team members. We got a terrific insight into what it takes to be champions and how the players keep motivated. Congratulations to everyone involved with Mullingar Shamrocks.
Active Kids learn Better!
Research shows that physically active children have more active brains. After 20 minutes of physical activity, it has been shown that children test better in reading, spelling and maths and are more likely to read above their class level. With this in mind, Presentation Senior have decided to take part in an Active Break Challenge.  This means that every class will commit to taking an active break every day for a few minutes. It could be running, dance, exercise or any other activity. We can't wait to get started!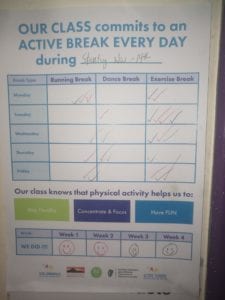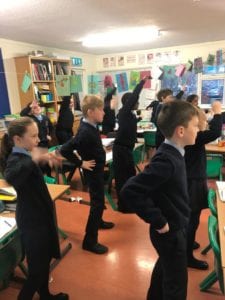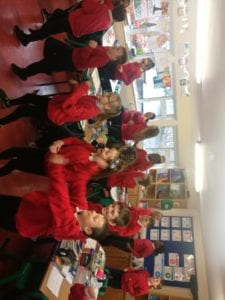 Cross Country
The annual Westmeath Schools Cross Country Run took place in Belvedere in September and was attended by schools from all over the county. The running training organised by Ms Shaw in early September clearly paid off as Presentation Senior achieved a record medal haul including a team medal and several individual medals. Huge congratulations to all the boys and girls who took part and represented the school so well.
Congratulations to Cross Country winners from 4th class  – Rachel Haughey, Aimee Boyd, Mindaugas Nemeikshs, Siobhan McDonald-Bradley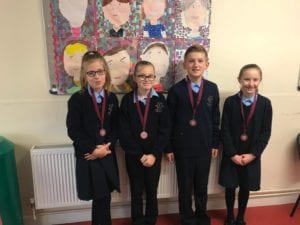 6th Class Challenge
In partnership with Mullingar Shamrocks GFC, the sixth classes in Presentation took part in an eight week fitness challenge. The children learned and practiced several new skills, exercises and techniques including sit ups, squats, Russian twists, burpees and many more. All the children put in a huge effort and on the final day of the challenge, competition was intense. Mr Kelly's class were eventual winners by the narrowest of margins. A huge Well done to all the boys and girls who trained really hard and learned a lot about the importance of exercise and fitness along the way.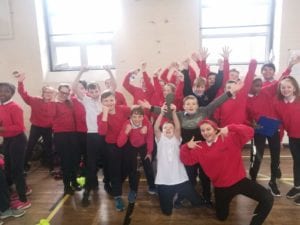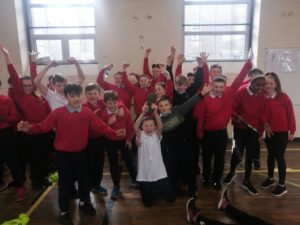 Tag Rugby
Tag rugby is a non contact team game. Each player wears a belt that has two velcro tags attached to it. Attacking players attempt to dodge and pass a rugby ball, while defenders attempt to prevent them scoring by 'tagging' which is pulling a velcro attached tag from the ball carrier. The students from Mr Kelly's sixth Ccass enjoyed learning and playing tag rugby this morning and are pictured below. Thanks to Claire from Mullingar RFC for all the training!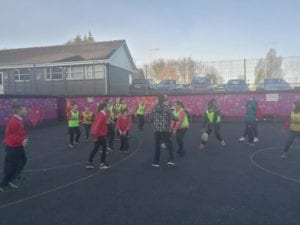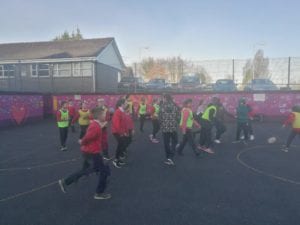 Visit from Ironman
Huge thanks to Deca Ironman winner and motivational speaker Gery Duffy for an inspirational talk on goal setting and doing our best. All feeling very motivated!
Slogan Competition Winner
Our Active Schools Committee held a slogan competition recently. They wanted to find a slogan that represents them and encourages everyone in the school to get active. The committee was delighted with the huge response from all classes in the school and after much deliberation, chose a winner – Lolade from Room 8 with the following excellent Slogan and design: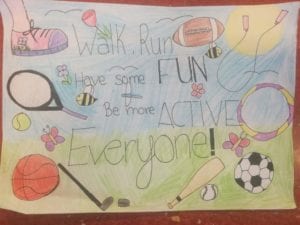 Some of the other fantastic entries to the Active School Slogan Competition..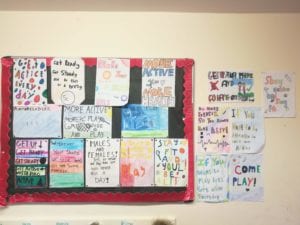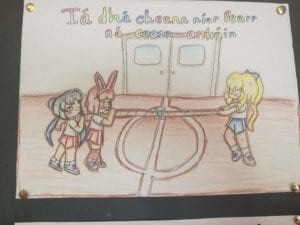 Active Schools Running Challenge!
As part of our Active Schools initiative, this term the whole school took part in an Active Schools running challenge. Each class ran a minimum of one kilometer every day for twenty days. In total the whole school ran a combined total of 3,668 kilometers which is the equivalent of running from Mullingar to Valetta in Malta! This was a fantastic achievement and a great introduction to running for fun. Well done to everyone involved. More Active Schools Challenges to come next term!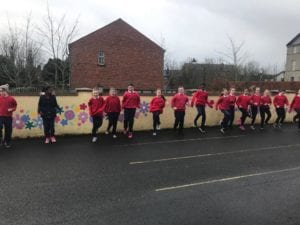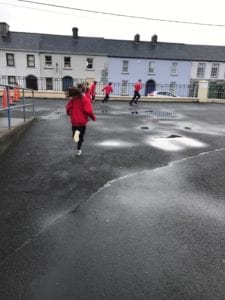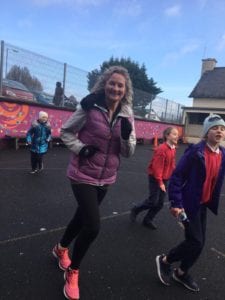 Well done to everyone who took part in the 20 day running challenge as part of our Active Schools Flag initiative.The challenge was a great success, hopefully you all had fun and felt the many benefits of running every day.Altogether the whole school ran a total of 3,668 kilometers which is the equivalent of running from Mullingar to Valetta in Malta!
The top 5 classes who ran the furthest distances are:
Room 3 with 343 kms
Room  6 with 380 kms
Room 8 with 400 kms
Room 12 with 428 kms
And Room 11 with a massive 483 kms!
Again well done to everyone, this was a fantastic achievement and a great introduction to running for fun.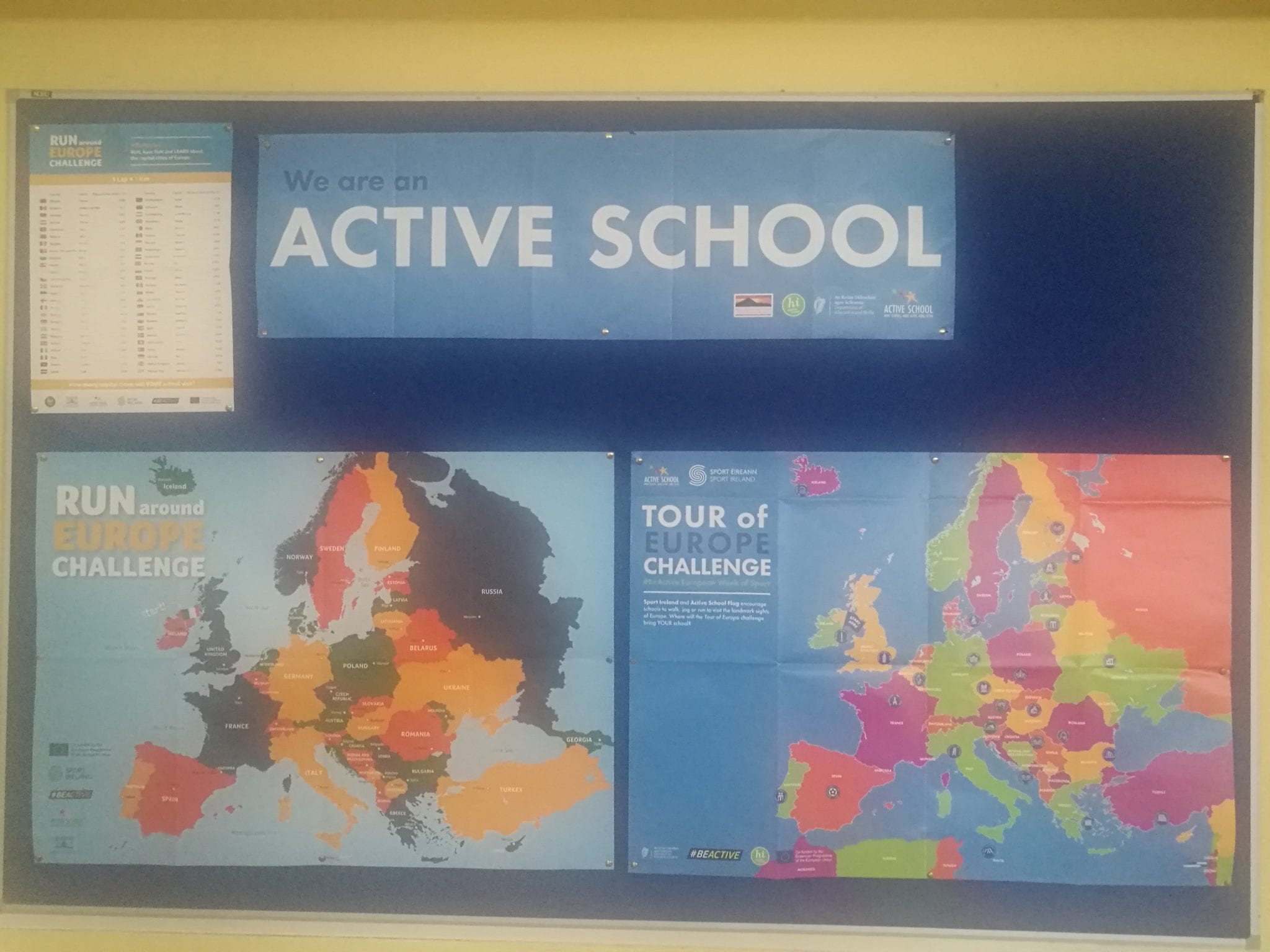 Walk a Mile with a Smile
As part of of Wellbeing Week and of course because we are an Active School,pupils and teachers took part in a 'Walk a Mile with a Smile' walk along the canal line this week. We are very lucky in Presentation to be so close to the canal line and I'm sure this will be just the first of many 'Walk a Mile with a Smile' walks that will take place this year.