Notice of open evening distributed to parents/guardians of all children in the first and second classes.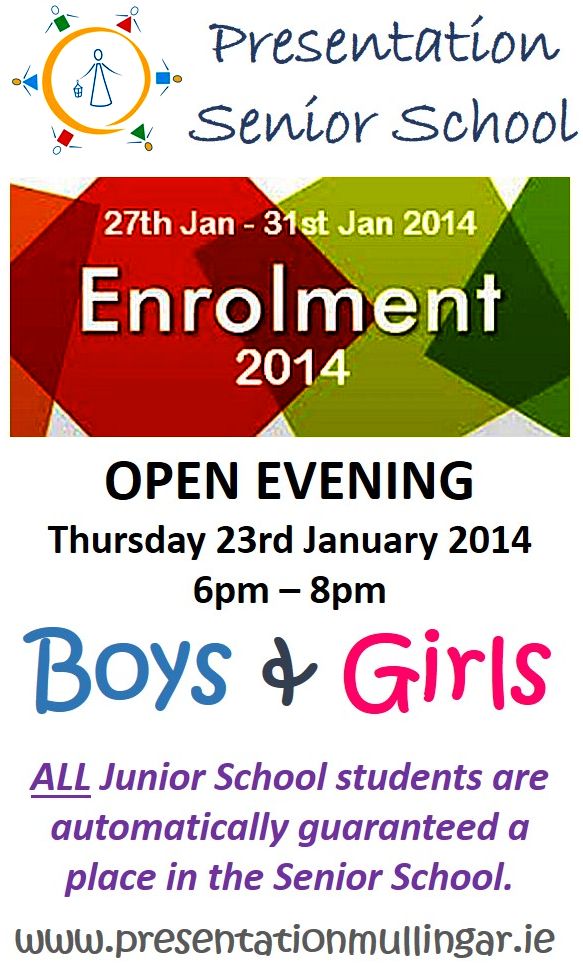 Copy of letter sent to parents/guardians of children in first and second classes.
Dear Parents/Guardians
Enrolment week in Mullingar is from Monday 27th January to Friday 31st January. We wish to invite the first and second class children along with their parents/guardians to our open evening on Thursday 23rd January 2014 from 6pm to 8pm.
The Boards of Management of the Presentation schools in Mullingar have agreed that all of the boys and girls in second class in the Junior School should be permitted to transfer automatically to third class in the Senior School. As a result, children who are currently enrolled in the Junior School are automatically guaranteed a place in the Senior School and their parents/guardians will not be required to complete an application form. 
During enrolment week, with your consent, a copy of your child's registration form on file in the Junior School will be placed on the pupil file in the Senior School. You will be asked to complete a short form to provide us with some additional information.
At our open evening on Thursday 23rd January 2014, you will have an opportunity to become familiar with the wide and varied range of learning activities provided for the children enrolled in our school. If you have any questions, please feel free to ask a member of staff during the open evening.
We look forward to meeting you and your child.
Yours faithfully,
Michael Tunney