Partnerships
FAI Five-A-Side
​Well done to the two boys' soccer teams who entered the FAI Schools Five–A-Side tournament in March. Both teams progressed to the county finals and Presentation 1 finished as runners up. Well done boys on a fantastic achievement.
Well done also to the girls teams who made it through to the County Finals, and were so close to bringing home silverware, narrowly missing out on second place in the finals.
Le
ts Get Active with the Irish Heart Foundation
The Irish Heart Let's Get Active Award is a fun way to encourage children to get at least 60 minutes of physical activity every day.
The pocket planners let children track how much activity they do each day.
After the  4 weeks –  each child is awarded a certificate of achievement –  also supplied by the Irish Heart Foundation.
This challenge is suitable for primary school children and is a great way to support Active Flag initiative in schools
In February we  received our 'Lets get Active' pocket planner and the ASF committee distributed one to every child in the school.  The planners were very popular and encouraged everyone to get active for 60+ minutes every day. The children also did Active Homework during this initiative. There were some excellent Active Homework suggestions from the ASF committee.
Amber Flag
As part of our Amber Flag initiative, Ms McLoughlin created a notice board promoting good mental health and wellbeing. The board features lovely quotes and inspirational slogans.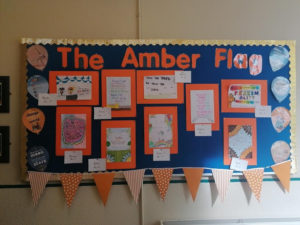 Time for Wellness
Ms Glynn's wonderful wellness clock showsthere's always time for wellbeing, and activity!
Get Active With Mullingar Shamrocks
In partnership with Mullingar Shamrocks GFC, the sixth classes in Presentation took part in an eight week fitness challenge. The children learned and practised several new skills, exercises and techniques including sit ups, squats, Russian twists, burpees and many more. We also learned so much about teamwork and co-operation as well as new ways of getting active and keeping fit. All the children put in a huge effort and on the final day of the challenge, competition was intense. Mr Kelly's class were eventual winners by the narrowest of margins. A huge well done to all the boys and girls who trained really hard and learned a lot about the importance of exercise and fitness along the way. Expect even fiercer competition next year!
Thanks to Mullingar Shamrocks for taking classes for Gaelic football and also organising GAA blitzes for all classes over the last few years. Its a great way of introducing children to our national games.
Westmeath Camogie C
hampions 2019!
Westmeath made history in 2019 by winning the All Ireland Intermediate title for the first time.
A huge congratulations from Presentation Senior School and thanks to the team for visiting the school with the cup and inspiring a future generation of All Ireland winners!
Mullingar Shamrocks Visit the School
​On Thursday 8th November, following their Westmeath Senior Football Championship win, members of Shamrocks GFC brought the Flanagan Cup to the school. We were delighted to welcome the newly crowned County Champions after their historic win and members of the Active School Flag committee did a fantastic job in interviewing some of the te
am members. We got a terrific insight into what it takes to be champions and how the players keep motivated. Congratulations to everyone involved with Mullingar Shamrocks.
Visit from Ironman!!…no, not that one
Huge thanks to Deca Ironman winner and motivational speaker Gerry Duffy for an inspirational talk on goal setting and doing our best.  We're all feeling very motivated!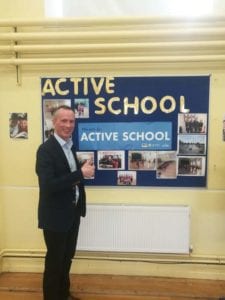 PAWS
We are avid swimmers at Presentation Senior School and very lucky that every class gets an opportunity every year to go swimming in the local pool and complete the PAWS programme.
Its Only The 
Challenge Cup!
Thanks to Claire from Mullingar Rugby Club for bringing it in to show us, not to mention the tag rugby lessons throughout the year!