Reminding us to care for and Respect the Environment
"Today is special
We planted a tree
In front of our school
as you can see.
A tree that will grow
and put down roots,
Like our school community
We spread out shoots
Of caring and sharing;
and a welcome for all.
In Presentation School
we answer the call,
To be fair and true
and kindly too,
Scoil Na Maighdine Muire
forever "abú".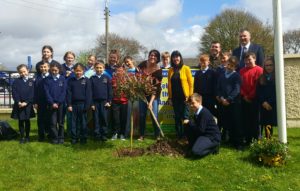 Today we planted a 'Photinia Red Robin Tree'. We planted it to celebrate the Tercentenary of the birth of our foundress Nano Nagle, who was born in 1718. Nano was a woman of vision and inspiration and her motto Not Words, But Deeds lives on in the Presentation Sisters in Ireland and abroad who work to bring education and hope to all. Our tree also celebrates getting our 5th Green School flag. It will grow proudly, near our flag.